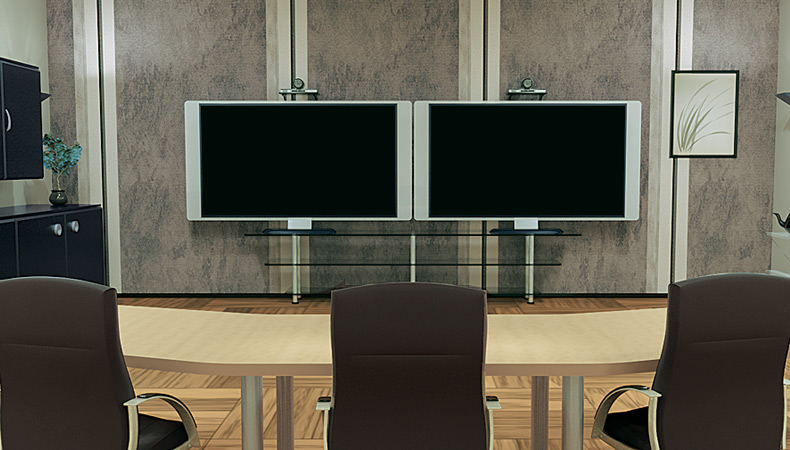 HD Video Conference & Presentation Room
Overview
This room is designed to support the critical visual communication needs of a technology company. This standard room design is deployed in many facilities throughout the enterprise to ensure consistent and predictable operation, maintenance, and support. It features three modes of operation: local presentation, audioconferencing, and videoconferencing. The company has standardized on digital signal inputs and newer high definition LCD displays.
Room Needs Assessment
Staffing
This equipment configuration is designed to support the company-standard, medium-sized conference room, seating up to seven primary participants around a company furnished, wedge-shaped conference table. Additional seating may be present for local presentation meetings. However, only the seven participants seated at the conference table are intended to be visible on-camera or heard via microphones during a videoconference.
Display Requirements
A conference table-mounted Extron Cable Cubby® includes input capability for the following sources: One HDMI source, one desktop PC or laptop with analog 15-pin HD output, one S-video source, and one composite video source.
A wall-mounted HDMI input is available for portable sources rolled in from the company's lab.
Sources
One local desktop PC with DVI or HDMI output, one Extron AVT 200HD Cable TV HD Tuner with HDMI output for viewing news and information channels, and one Blu-ray Disc player for viewing training materials. Two of these sources will be viewable locally within the room.
Audio Requirements
Three cardioid boundary microphones mounted on the wedge-shaped table, local playback of all sources during a local presentation, and local playback of far-end audio and local sources during audioconferences and videoconferences.
Functional Requirements
All sources can be viewed locally. Sources to be sent to the far end in a videoconference include the local desktop PC and a laptop with HDMI or analog 15-pin HD output.
Two sources may be viewed simultaneously during local presentations or during a conference via an options list on the touchpanel. The meeting participants may choose whether they wish to view the source sent from the far end, or a source being sent to the far end.
System Design Solution
Display System
Two 52 inch (132 cm) diagonal 1920x1080 resolution LCD displays will be configured in a 1 unit high by 2 unit wide array. The screens will be wall-mounted at 40 inches (102 cm) AFF - Above Finished Floor. The individual screen size is approximately 28 inches (71 cm) high by 48 inches (122 cm) wide.
Cameras
Two HD cameras will be installed on wall mounts, one above each display. The camera above the left monitor will be the primary camera used for recall of presets, including close-up shots of meeting participants. The camera above the right monitor will be used for wide cover shots of the room and meeting participants at the conference table.
Digital Matrix Switching and Signal Management
The Extron DXP 84 HDMI 8x4 matrix switcher will function as the heart of the system. HDMI input sources, whose source material or hardware requires the management of HDCP, will be switched alongside non-HDCP input sources. This configuration will provide efficient digital source selection, distribution, and image control for the display system. Only the appropriate sources will be routed to the PC input on the codec.
Signal Distribution
Extron DTP HDMI 301 and DTP DVI 301 Twisted Pair Transmitters and Receivers will be paired to extend DVI or HDMI video signals over a single shielded CAT 5e cable. This standardized and easily accessible infrastructure will provide the most effective method of conserving conduit space while preserving the integrity of the digital signals over considerable distances. The HD cameras, the HDMI input at the table, the HDMI input at the wall plate, and HDMI signal distribution to the displays will use this common cabling infrastructure. The DTP HDMI 301 supports DDC and HDCP which will provide reliable long distance DVI and HDMI signal distribution. The analog video and PC sources will be scaled and converted to DVI using an Extron DVS 304 DVI Video and RGB scaler.
Audio System
Local audio signals will be embedded within the HDMI signals and routed using the DXP 84 HDMI matrix switcher. The Extron HAE 100 Audio De-Embedder will be used to extract audio from the DXP 84 HDMI outputs and send analog audio signals to the Extron DMP 64 ProDSP™ Digital Matrix Processor, which will also receive incoming audio from the codec. The DMP 64 will then send a combination of local and far-end audio to a single Extron XPA 1002 Stereo Power Amplifier. The XPA 1002 will then power the two wallmounted Extron SI 26 Surface Mount Speakers located on each side of the display system. Volume control of far-end and local audio, and the muting of microphones will be provided via the touchpanel and the control system. Audio from microphones will only be heard at the far end.